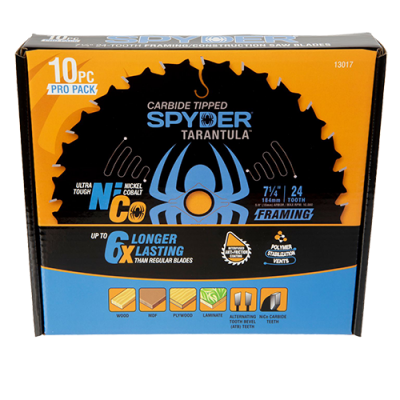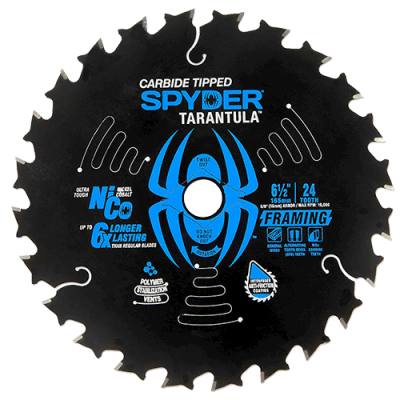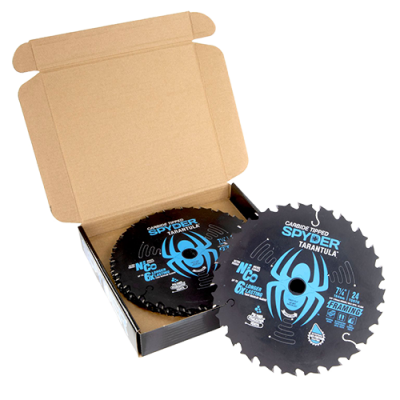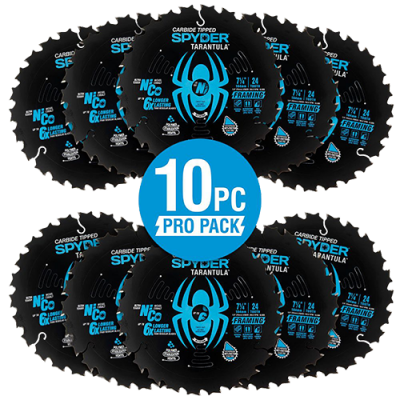 Circular Saw Blades
NiCo (Nickel Cobalt) Teeth Provide Clean Cuts & Exceptionally Long Life.
To minimize the risk of serious injury, always use eye protection and use the blade only on the products listed below for which this blade is designated. To minimize the risk that the blade will shatter or break and injure you during use, inspect the blade prior to each use and replace with a new blade if damaged, bent, cracked or if any segments of the blade are missing. Always follow the safety instructions in your power tool instruction manual.
Circular Saw Blade features
Lasts 6x longer than regular blades.
Ultra tough NiCo (nickel cobalt) cutting teeth are sharpened 3x to provide exceptionally clean cuts.
Interfused anti-friction coating protects against heat, gumming and corrosion.
Alternating tooth bevel (ATB) provides exceptionally smooth cuts.
Polymer stabilization vents reduce noise and vibrations.
Demolition blade features DEMO DRIVE teeth that power through nail embedded wood. Lasts up to 10x longer when cutting wood with nails than conventional saw blades.
Circular saw blade SELECTION GUIDE
6-1/2″

7-1/4″

10″

12″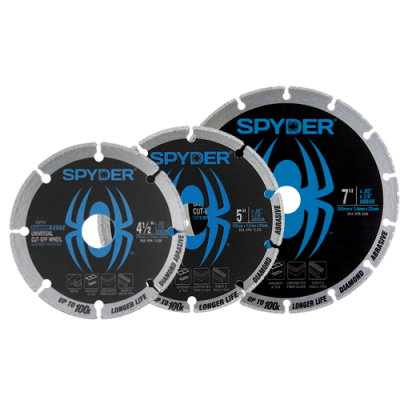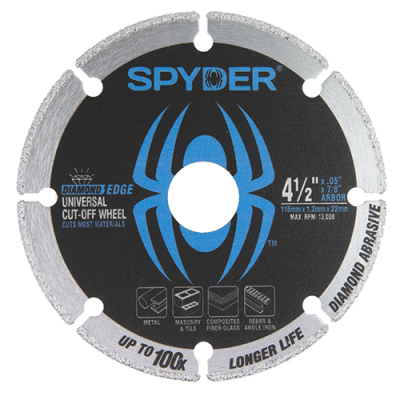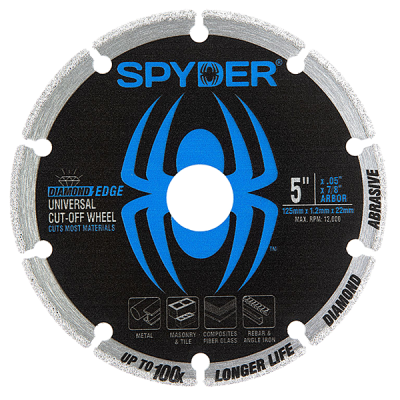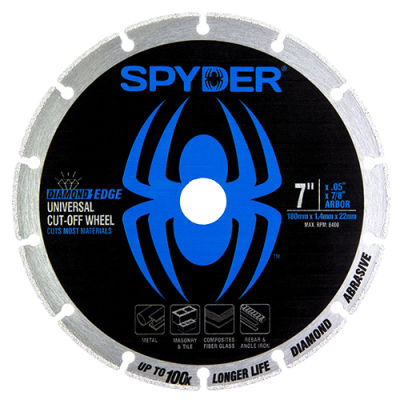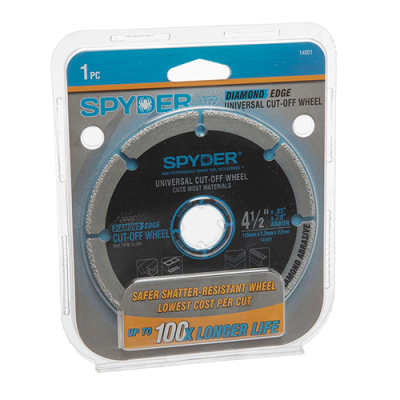 Diamond edge universal cut-off wheel
Long Lasting Diamond Abrasive Powers Through Almost any Material.
Only use wheel for cutting applications that are listed on the front of the package – wheel is not intended for use as a grinding wheel. Use eye, face, dust and ear protection. Wear protective body apron, gloves and other PPE. Speed rating of diamond abrasive cut-off wheel must be greater than tool speed. Do not perform cutting operations without a Type 41/1A guard; guard foot should be adjusted for maximum operator protection and stability. Mount wheel with the flange and grinder nut intended for cut-off wheels. Run-in blade in tool for one minute before cutting application. Use the proper size angle grinder for the blade. Always use a support handle and start cutting with a light forward pressure. Important instructions and warnings are contained in the tool owner's manual – please refer to the power tool owner's manual before using the tool with this wheel. Failure to heed all safety instructions, warnings, and in-use recommendations by the power tool manufacturer regarding the use of the angle grinder and wheel could result in serious bodily injury.
Lasts 100x longer than conventional wheels.
Cuts almost any material – steel, stainless steel, cast iron, rebar, masonry, ceramic tile, composites, and more.
Safer shatter-resistant steel core won't blow apart like conventional bonded abrasive wheels.
Lowest cost per cut wheel – spend less time replacing wheels and more time working.
Wheel is always 4-1/2″ in diameter for a consistent cut.
Reduced dust and debris during use.
For use on angle grinders with a maximum RPM of 13,000.
Circular saw blade SELECTION GUIDE
4-1/2″ Diamond Edge Universal Cut-Off Wheel

Cuts steel, stainless steel, cast iron, rebar, masonry, ceramic tile, composites and more

5″ Diamond Edge Universal Cut-Off Wheel

7″ Diamond Edge Universal Cut-Off Wheel