High-performance power tool accessories -With Spyder Tools

BE THE FIRST TO RECEIVE EXCITING NEWS, UPDATES AND SPECIAL OFFERS FROM SPYDER PRODUCTS.
SPYDER Newsletter: For the Pros that Power our Tools. Join the SPYDER Pro Community to receive the latest updates, innovation and opportunities for free SPYDER Gear and Giveaways.
(Don't worry. We will never sell any customer data. See privacy policy for more information.)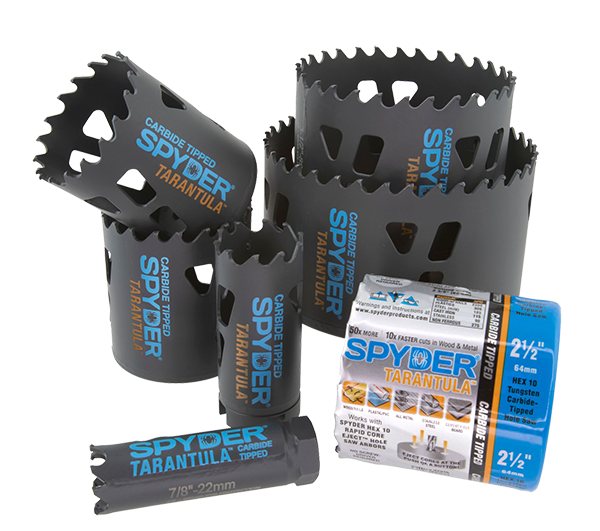 PUT US TO THE TEST
See for yourself how Spyder tools stand up to the punishment that pros like you dish out every day. If you make your living with power tools, you need blades and attachments that work as long and hard as you do. Try our best sellers: Hole Saw Blades & Jig Saw Blades for long lasting, great performance.
High performance powertools accessories
What people are saying about Spyder®
"Spyder's design is superior for use in wood. The design allows the wood to not fill in the cutters so it removes wood and therefore drills through wood much faster than normal fine tooth hole saws. I manufacture Wood Wall above ground pools and had a special cutter made 35 years age that is similar in design to the Spyder to drill a 3" through hole and a 4" counter bore hole all at once for where our water inlet or light fitting is installed. The Spyder technology when drilling wood is the only way to go! Great design, Great product."
"Awesome tool! Remodeling a home where the old sheet rock had been glued to the outer wall studs. Scraper makes quick work of taking the glue and bits of sheetrock to prep for the new."
"25+ years exp. HVAC contractor. Best hole saws ever. They will actually cut concrete, but not recommended at all. They will cut brick/cinder blocks pretty well. Where they shine is cutting concrete siding and shingles. Cuts wood like a knife thru jello."
"When I first bought SPYDER products I had high hopes and man did it exceed my high hopes. The quality and the craftsmanship put into these products are absolutely amazing! I highly recommend SPYDER to friends, family, colleagues."
Users from around the country share how
Spyder tools have worked for them.
Get the tools that deliver again and again – only from Spyder®